MUSEUM & GIFT SHOP HOURS OF OPERATION:
Tours by appointment. The museum will be open Saturdays (10 to 4) and Wednesdays (from 5 to 7 p.m.) through December. Admission is free.
Click here for directions
We will continue to keep you up to date on what's happening here and on our Facebook sites. Also you can reach us by email at sayrehistorical@yahoo.com or on our museum phone at 570.882.8221 and leave a message.
Thank you for your continued support.
Celebration at the Station
The beer is chilling, the wine is aging and the food is ordered. Plans are falling in place for the third annual CELEBRATION AT THE STATION, to be held May 18th from 5pm until 7pm at the Sayre Historical Society Museum grounds, 103 S. Lehigh Avenue, Sayre, PA
Photo Caption: The weather has to be better this year than last for the 3rd annual Celebration at the Station!
The event will feature a variety of wines from Glenora Wine Cellars of Dundee, NY as well as craft beers from Skerpon's Beverage of Sayre, PA and locally made craft brews and ciders from the Bluestone Brewing Company of South Waverly, PA. The price of $20.00 each will include a choice of either a wine glass or beer glass with the Sayre Historical Society logo, as well as many tasty treats provided by a variety of local establishments. The local establishments that have donated food and/or gift cards include: Alliger's House of Wings, Applebee's, Burger King, Chumpy's Pizzeria & Grill, Coach's Pizza, Dandy Mini Marts, Dessert First Bake Shop, Dunkin Donuts, Englebert Farms, Greenhouse Market and Café, Howie's Pizza, Jolly Farmer, Kurt's Making Whoopie, Mad Hatter's Café and Co-op, Mastracchio's Bakery, McDonald's, Nocchi's Hoagie Stand, Grill at the Station, Parrish Family Deli, Planet Bananas Frozen Yogurt, Pudgie's Pizza, Rail House Restaurant, Sayre Theatre, Soprano's Market, Ted Clark's busy Market, Tomasso's, Tops Market, and Walmart. Centerpiece flower arrangements will be provided by Plants 'N Things Florists and will be given away as door prizes at the end of the event. In addition other door prizes will be given away throughout the evening. There will also be a silent auction of many wonderful donated items and baskets.
Tickets are available for sale at the event and are also available in advance from any Board Member; at the Museum during open hours each Saturday from 10 am until 4 pm and each Wednesday from 5 pm until 7 pm; or you can call 570-882-8221, leave a message and someone will call you back. Please join us for a fun evening at The Celebration at the Station.
The Sayre Historical Society is a recipient agency of the United Way of Bradford County.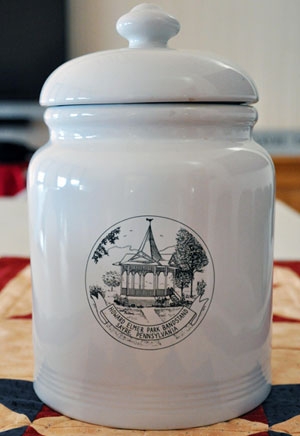 Wine and beer event will feature unique Silent Auction items
SAYRE – The Celebration at the Station wine and beer tasting event slated for Wednesday, May 18 will include a Silent Auction of several items including a vintage model train set, framed puzzle, two rounds of golf and one-of-a-kind cookie jar.
CAPTION: A one-of-a-kind cookie jar featuring the bandstand at Howard Elmer Park will be among the many items available at the Silent Auction at the Celebration at the Station.
Tickets for the event are available from the museum and any board member. The cost is $20. The event will be held at the Sayre Historical Society located in the Lehigh Valley Railroad Station in downtown Sayre. Hours are 5 to 7 p.m.
Admission includes food samplings and raffle tickets plus wine and beer tastings from Glenora Winery, Bluestone Brewery and Skerpon's Beverage. The museum will be open for tours.
The Cookie Jar that slated for the Silent Auction is the only one of its kind, according to museum volunteers. The hefty jar has an image of the Howard Elmer Park bandstand on the front and a description of the Sayre landmark on the back. The description reads:
"Built in 1885-86 in the center of City Park, renamed Howard Elmer Park in 1911, with money raised through public subscription from the citizens of Sayre. Thus it has been a Sayre landmark even before the incorporation of the Borough of Sayre in 1891. The bandstand has served as a site for civic ceremonies, political rallies, band concerts, weddings, visits from Santa Claus and holiday celebrations."
Other items include a framed puzzle, a Kurt's Whoopie Pie gift basket, a dinner/movie/dessert package, a handmade baby quilt, homemade quilted table runners, and more.
The museum is open Saturdays from 10 a.m. to 4 p.m. and Wednesdays from 5 to 7 p.m. Call 570-882-8221 or email the museum at sayrehistorica@yahoo.com for more information. The Sayre Historical Society is a non-profit historic preservation organization staffed by volunteers and a recipient of United Way funding.