Unique model added to Sayre train show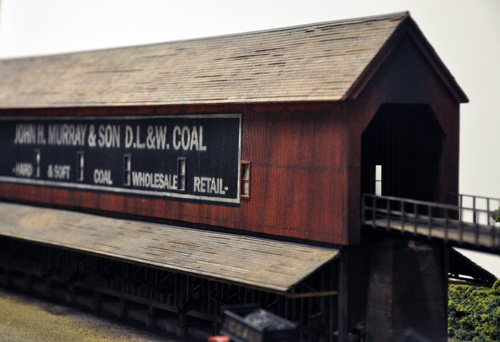 SAYRE - Model Train Day will feature a unique model of the historic coal trestle of John H. Murray & Son painstakingly created in HO-scale by Rick Thorne of Athens. The annual event will be held on Saturday, November 24 at the Sayre Historical Society from10 a.m. to 4 p.m.
CAPTION: A model of the John H. Murray & Son Coal Trestle has been added to the annual Model Train Day at the Sayre Historical Society.
Admission is free.
The HO-scale model of the structure was constructed over hours of work, according to Thorne, a longtime local modeler. The actual building is located in South Waverly and was originally built in 1900.
The model train event will feature two operating model train layouts, special displays, memorabilia vendors and more.
One of the special displays at the museum is the scale model steam locomotive "Donald" built over 100 years ago by the late Michael Gorman of Sayre and loaned to the Sayre museum by his great-grandson, Mick Koons.
On the second floor of the museum, railroad memorabilia vendors will offer for sale a large variety of vintage railroad items.
Bob Gongleski of Vestal, NY specializes in LVRR ephemera including postcards, slides, photographs and books. Bob Pastorkey of Trackside Photo will have a large selection of 8 x 10 black and white photographs for sale. The photographs cover the Lehigh Valley, D.L. & W. and Erie-Lackawanna railroads. Richard Palmer, railroad author, is also scheduled to be present to sign copies of his books including The Coming of the Railroad to Sayre, and others. Local modeler Aaron Dickson will be demonstrating modeling techniques during the show.
A special display will recognize the contributions to preserving local history by Jim Spears and Gary Severn, both of Sayre.
Permanent exhibits at the museum focus on Sayre history including the Robert Packer Hospital, Dr. Donald Guthrie, downtown Sayre businesses, Belle Knitting, Sayre churches, and an entire room devoted to the Lehigh Valley Railroad.
A special exhibit in the Rotating Exhibit Room features "The Art of M. Louis Gore," a former Sayre resident who was a well-known local artist. The display includes numerous paintings, sketches and photographs from the Don Broughton Collection donated by Frank Evans of Sayre.
The museum is open Wednesdays from 5 to 7 p.m. and Saturday's from 10 to 4 p.m. For additional information, visit the museum website at www.sayrehistoricalsociety.org or go to Facebook.
The all-volunteer museum is member-supported and a recipient of funds from the Bradford County United Way and the Bradford County Tourism Promotion Agency.