Northeast railroads subject of Sayre Railroad Heritage Day program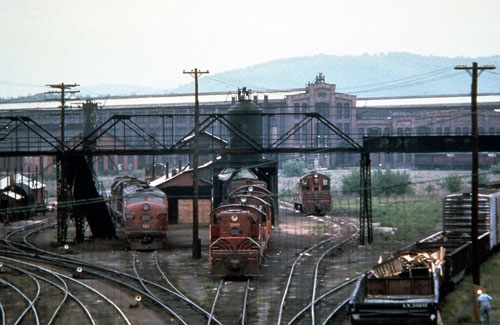 SAYRE - An illustrated program on railroad history is on tap at the Sayre Historical Society on Saturday, June 29 as part of Railroad Heritage Day. Author Jeremy Plant will present a 1 p.m. program on "Northeast Railroads Before Conrail: 1967 to 1976." Admission is free.
CAPTION: Lehigh Valley Railroad diesel locomotives are pictured in the Sayre service-track area in the mid-1970's. A program on "Northeast Railroads Before Conrail" will be presented Saturday, June 29 at 1 p.m. by author Jeremy Plant as part of the Sayre museum's Railroad Heritage Day.
An all-day scavenger hunt for kids will allow youngsters to explore the story of Sayre on two floors of history at the historic Lehigh Valley Railroad Station. Finally, a one-day "Ice Cream Station" will be set up on the grounds of the museum offering old-fashioned ice cream sandwiches from Bethie's Place.
The event, formerly called Caboose Day, will focus on the importance of railroad history on the development of Sayre and the surrounding Penn-York Valley communities. Downtown Sayre businesses will also also hosting the second annual Street Faire on Saturday.
Plant brings to Sayre an extensive background in transportation and railroad history. A former professor of public policy and administration with Penn State University Harrisburg, Plant has authored a number of books on railroads including the 2003 book Trackside Around Sayre, Towanda and Waverly with Lloyd Hall. In 2008, Plant wrote an article in Milepost Magazine for the Friends of the Railroad Museum of Pennsylvania on Sayre's "Railfan Bridge" which traversed the railroad yards until 1988.
Plant started railfanning the Penn-York Valley when he was finishing college at Colgate University and his brother was a at law school at Cornell University in Ithaca.
"It was a great area," Plant recalled, "with beautiful scenery and remarkable railroad atmosphere and activity."
Plant later returned to the area when his son Brian was enrolled at Ithaca College and they retraced many of the same trips he took when he was Brian's age, Plant recalled. Many of the photographs from those railfan sojourns will form the basis for Saturday's program
"I have put together a show of about 160 photographs of Central Railroad of New Jersey, Lehigh Valley Railroad, Erie-Lackawanna and Delaware & Hudson, with a couple of Lehigh & Hudson River Railroad thrown in," Plant said. "The program goes west on the CNJ and LV from New Jersey to Sayre/ Waverly, then E-L from New Jersey to Waverly and finishes with D&H heading north from Binghamton and finishes with D&H "˜Sharks' on the branches out of White Hall."
Plant's program is scheduled to start at 1 p.m. in the second-floor Henry Farley Community Room. The museum is handicap-accessible and air-conditioned for comfort.
A new publication on the most recent exhibit "Working on the Railroad: Sayre and the Lehigh Valley Railroad" is available in the museum's Burkhart Gift Shop. The book Trackside Around Sayre, Towanda and Waverly with Lloyd Hall is also available in the gift shop.
The Sayre Historical Society is a membership-supported historic preservation organization staffed by volunteers. The historical society receives funding from the Bradford County United Way and the Bradford County Tourism Promotion Agency.