Sayre museum hosting Model Train Day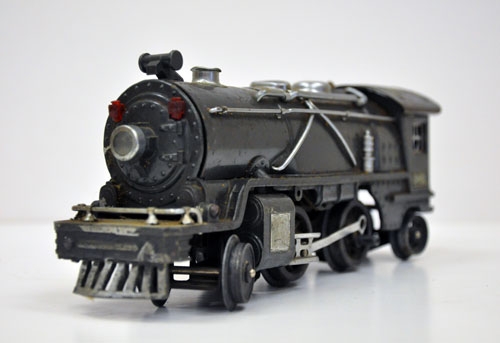 SAYRE - Model trains of all shapes and sizes will be center-stage at the Annual Model Train Day on Saturday, November 30 at the Sayre Historical Society.
CAPTION: A Lionel steam locomotive donated to the Sayre Historical Society by Greg Lewis and Lorraine Gardner will be among several unique models on display at the Annual Model Train Day at the Sayre Historical Society on Saturday, November 30 from 10 a.m. to 4 p.m. Admission is free.
The all-day event will run from 10 a.m. to 4 p.m. and will feature a special display of Lionel trains, two operating HO-scale model train layouts, vendors offering railroad memorabilia and model train items, a special display of LEGO trains and railroad artist James Mann. Admission to the event is free.
Families, friends and rail fans are invited to attend this special event.
The Lionel train display will feature a variety of items from a recent donation by Greg Lewis and Lorraine Gardner including both pre-war and post-war Lionel locomotives, box cars and structures. The display will be located in the former baggage room of the historic Lehigh Valley Railroad Station. The room features one of two HO-scale model train layouts in the museum building. It was built by Charles Dixon and moved in two sections to the old baggage room, reassembled, rewired and now maintained with the technical help of John Reynolds and Aaron Dickson. A rugged coal mining operation and a small town typical of many communities along the route of the Lehigh Valley Railroad highlight this scenic layout.
The second layout includes a replica of the Sayre station, the Desmond Street Park, and buildings on Desmond Street from the 1940's and 50's. It was built by Don "Buckshot" Murray, a Navy veteran who worked for General Electric and passed away in 2008. His wife was the former Nancy Springer of Sayre. A special feature of the layout is the sound effects including the clank, clank, clank of passing trains, steam and diesel whistles and a conductor shouting, "All abo-o-o-o-o-o-ard!"
On the second floor of the museum, railroad memorabilia vendors will offer for sale a large variety of vintage railroad items. Bob Gongleski of Vestal, NY specializes in LVRR ephemera including postcards, slides, photographs and books. He also has over 800 LVRR postcards and other memorabilia for display.
Bob Pastorkey of Trackside Photo has a large selection of 8 x 10 black and white photographs he sells at various train shows. The photographs cover the Lehigh Valley, D.L. & W. and Erie-Lackawanna Railroads.
Watercolor painter and ink illustrator James Mann will also be present with a wide variety of prints and notecards depicting railroads including the Lehigh Valley Railroad. Mann created an original painting of the Sayre Historical Society's Lehigh Valley Railroad Caboose #95011 for the 2016 Caboose Day. Prints and notecards will be available to purchase all day.
Sayre Historical Society founder James Nobles will also be offering postcards of Sayre and the Lehigh Valley Railroad, local history books and some items to give away.
The newest addition to Model Train Day is the LEGO duo of Megan Rothrock and Jim Foulds who have teamed up for Construct-a-Venture. Rothrock is a former product designer with The LEGO Group, designing LEGO sets. Foulds is a former publisher of Brickjournal, a LEGO-based journal, and a former community director for LEGO.
The Sayre Historical Society is a non-profit organization staffed entirely by volunteers. The membership-supported museum receives funds from the Bradford County Tourism Promotion Agency and the Bradford County United Way.