Sayre museum receives preservation grant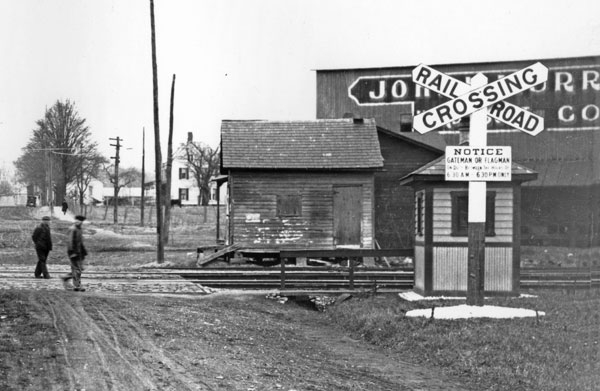 SAYRE - The Sayre Historical Society has received a grant for $100 from the Potomac Chapter of the National Railway Historical Society for the preservation of a series of photographs and letters donated by the late Joseph J. Bottone of South Waverly.
CAPTION: A detail from a 1916 photograph donated by Joseph A. Bottone depicts the Pennsylvania Avenue crossing of the Delaware, Lackawanna & Western Railroad in South Waverly. (Joseph J. Bottone Collection)
The photographs depict street crossings of the Delaware, Lackawanna & Western Railroad in South Waverly from 1916 as well as a view of the LVRR station in Sayre and the Sayre railroad yards. The letters are addressed to former Lehigh Valley Railroad (LVRR) President Elisha P. Wilbur and date from the late 1880's.
Mr. Bottone was a long-time resident of South Waverly, served in the U.S Army during World War II and was employed as a machinist by the Ingersoll-Rand in Athens until his retirement in 1984. He was a volunteer with the South Waverly Fire Department and South Waverly Ambulance Corps. "Joe" was an avid model railroader and photographer and he volunteered with the Valley Railroad Museum in Sayre. He passed away on December 31, 2004.
The D.L. & W. photographs and the LVRR letters were donated to the Sayre Historical Society by Mr. Bottone's son, Joseph A. Bottone.
The Potomac chapter of the NRHS contacted the Sayre museum following an article that appeared in the October 2019 issue of Trains magazine called "Railfan Road." The article, written by Orren B. Helbok, detailed an excursion on Route 220 highlighting various historic railroad attractions. The Sayre Historical Society was mentioned in the article along with a photograph of the Sayre railroad yards.
In a letter, Jay Creswell, treasurer, stated, "The Potomac Chapter, NRHS, annually makes small grants of a few $100's to railway preservation organizations. The work your group has done at the Sayre station recently received favorable coverage in Trains magazine. Could you suggest a specific action that we might support?"
The preservation of the D.L. & W. photographs and the LVRR letters to President Wilbur was proposed and approved for the grant. A check arrived in January.
Mr. Bottone was an avid photographer and his son also donated a large collection of railroad negatives to the Sayre museum. The negatives depict a wide variety of railroad activities and scenes throughout the area. A workshop on establishing a "Digital Darkroom" at the Sayre museum was held Saturday with Robert Pastorkey of Binghamton. Pastorkey, who is a member of the Susquehanna Valley Chapter of the NRHS outlined the fundamentals of digitizing photographic negatives. A second workshop is planned.
The Sayre Historical Society is a recipient of funding from the Bradford County United Way and the Bradford County Tourism Promotion Agency.