MUSEUM & GIFT SHOP HOURS OF OPERATION:
Tours by appointment. The museum will be open Saturdays (10 to 4) and Wednesdays (from 5 to 7 p.m.) through December. Admission is free.
Click here for directions
We will continue to keep you up to date on what's happening here and on our Facebook sites. Also you can reach us by email at sayrehistorical@yahoo.com or on our museum phone at 570.882.8221 and leave a message.
Thank you for your continued support.
Schedule of Events for 2019 - New Books in the Gift Shop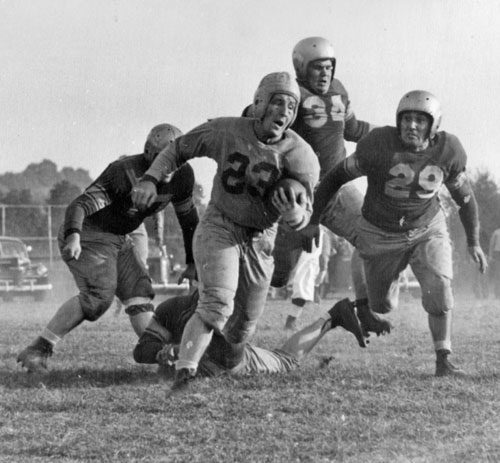 Semi-pro football subject of cover story in Sayre Quarterly
SAYRE – Semi-pro football in Sayre in the 1940's is profiled in the Fall issue of the Sayre Historical Society's Quarterly history magazine. The story include a series of photographs donated by Guy Liguori that includes several of his father, Augie Liguori, who played on the Sayre Boosters.
CAPTION: An action picture from the 1940's shows the Sayre Boosters, a semi-pro football team from Sayre. (Augie Liguori Collection)
A Sayre-built model engine and tender from 1939 called the General Sullivan is featured in the center section of the booklet which also includes stories on Sayre singer Johnny Arcesi, former Sayre coach Ray Welsh and the 45th reunion of the Sayre Class of 1940.
The Quarterly, published four times a year, is mailed to historical society members as part of their membership benefits. Individual copies are available at Carl's News Stand in Sayre and the historical society museum located in the former Lehigh Valley Railroad Passenger Station in downtown Sayre. Museum hours are Saturdays from 10 to 4 and Wednesdays from 5 to 7 p.m.
The Sayre Boosters was comprised on "former high school stars," according to a November 21, 1941 issue of the Sayre Evening Times. One newspaper account highlights a hard-fought 12-7 win over a strong Cortland team that "lost only a single game in the past two seasons and is highly rated in Central New York semi-pro circles," the newspaper stated.
Well-known names from the Valley sporting world included John Oliski, Augie Liguori, Sam Copie, Arnold Cochi, Nicholas Onofre, Dominic Pace, Vern Casselbury and more, according to the Times account.
In the late 1940's, the team was called the Valley All-Stars and included many World War II veterans, according to the October 2, 1948 Evening Times. The roster of a competing team called the Elmira Gliders featured a former professional player and former college players from Cornell University and Ithaca College, stated the October 2, 1948 newspaper.
The story on Sayre singer Johnny Arcesi plots the rise of a young boy from the East Side who picked up extra change singing and even won a local talent contest held at the Sayre Theater.
Arcesi worked freelance for a number of bands including Joe Venuti's Orchestra in the 1930's. Venuti was known as one of the the world's greatest swing violinist. A biographical account of Arcesi's life by historian Autumn Lansing, documents the interesting ups and downs of the talented local singer.
Arcesi later performed under the name Don Darcy. He visited the Valley in 1939 after finding a measure of success in the entertainment world.
In one record company promotional effort, over seven thousand letters were received by Arcesi from Detroit area fans after his song "Prisoner of Love" was broadcast on the radio, according to Lansing.
In the story on Ray Welsh, the former Sayre coach from 1933 to 1942 is profiled by longtime Sayre sportswriter Paul Seibel. Welsh was also at one time a running coach and recruiter for the Pittsburgh Pirates, Cincinnati Reds and the Brooklyn Dodgers. He also wrote a book called Baseball on the Run: A Manual for Players, Coaches and Managers. A signed copy in the museum's collection is written to the Times' Siebel. Under Welsh's coaching, Sayre won eight league titles in basketball and two District 4 PIAA track titles, according to an account by the Evening Times.
Several photographs from the 45th class reunion of the Class of 1940 are included from a recent donation of items by Kathleen Kunkler, daughter-in-law of Ed and Margaret (Castiglione) Kunkler.
An October 1, 1968 advertisement for Brotan's on Desmond Street announces a "compete stock of Boy Scout uniforms, equipment and literature." The ad was provided by Jim Nobles for the new exhibit at the museum on "A History of Scouting in Sayre." The display will run through December 22.
The Sayre Historical Society will be hosting Model Train Day on Saturday, November 30 from 10 a.m. to 4 p.m. Railroad memorabilia vendors, railroad artist James Mann and a special display on Lionel trains will be featured. Admission is free.
The Sayre Historical Society is a member-supported, non-profit organization and a recipient of funding from the Bradford County United Way and the Bradford County Tourism Promotion Agency.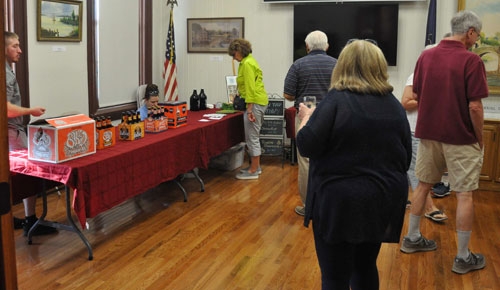 Historical Society Hosting Oktoberfest
SAYRE - The second floor of the Sayre Historical Society will be transformed into a Bavarian Beer Garden on Wednesday, October 9 from 5 to 7 p.m. when Oktoberfest will be celebrated with craft beer, tasty food and smooth jazz music.
CAPTION: Oktoberfest will be celebrated Wednesday, October 9 at the Sayre Historical Society will craft beer tastings, tasty food and live music.
The event will feature local beer tastings courtesy of Bluestone Brewery and Lane's Beverage as well as delicious food from Blackburn 1897. Live music will be provided by Jesse Bennett, Brian Murphy and Dave Arenius. Admission is $10 and proceeds will benefit the Sayre Historical Society.
According to tradition, the original Oktoberfest was the occasion for a wedding celebration between Crown Prince Ludwig of Bavaria and Princess Therese of Saxony-Hildburghausen on October 12, 1810. Multiple days of drinking were accompanied by feasting and horse races.
The historical society is also planning its first team trivia event on Sunday, October 13 from 2 to 5 p.m. at the Sayre VFW on W. Lockhart Street.
Prizes will be $120 for first place, $75 for second place and $60 for third place. A variety of unique baskets donated by local businesses will also be raffled. Proceeds will benefit the Sayre Historical Society.
Admission will be $10 per person with a maximum of six players per team. Chris Davis will be handling the trivia host duties.
Food will be available courtesy of the historical society and the VFW will be open for a cash bar.
The Sayre Historical Society is a non-profit historic preservation organization that receives funding from the Bradford County United Way and the Bradford County Tourism Promotion Agency.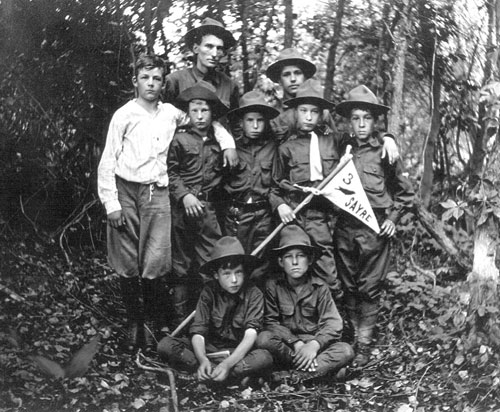 "Scouting in Sayre" opening September 7
SAYRE – A new exhibit that explores "A History of Scouting in Sayre" will open on Saturday, September 7 as part of History Fair at the Sayre Historical Society.
CAPTION: A group of Sayre scouts and an adult leader are pictured in this 1920's-era photograph from a scrapbook owned by the late Kenneth Meade. "A History of Scouting in Sayre" will open Saturday, September 7 at the Sayre Historical Society. (Photograph courtesy of James Nobles)
One of the first references to the scouting movement in Sayre occurred on August 16, 1911 when it was announced that scouts from Sayre would be joining a group of Boy Scouts from Elmira for "a jolly outing" to Sullivan's Monument. Equipped with woolen blankets for an overnight trip and "a supply of green corn" for a corn roast, the scouts were going to learn about the famous battle between General Sullivan's Continental Army and the Native Americans and British east of Elmira. The Star-Gazette article noted that this outing might be the last opportunity to see the structure due to the precarious condition of the old stone monument. The original monument collapsed days later following a windstorm on August 29, 1911.
The Sayre exhibit covers both Boy Scouts and Girl Scouts and highlights interesting events in the history of the scouting movement. The Boy Scouts of America was founded in 1910 and was based on a similar program begun in 1908 in England by Robert Baden-Powell. The Girl Scouts were founded in 1912 when Juliette Gordon-Low met Baden-Powell and started a movement in Savannah, Georgia. In 2017, the Boy Scouts announced that they would allow girls to join Cub Scouts and eventually be eligible to earn the rank of Eagle Scout.
The new Sayre exhibit will include early photographs, newspaper articles and memorabilia such as scout books, canteens, backpacks, neckerchiefs, uniforms, badges and pennants. The historical society will continue to accept additional scout memorabilia to preserve and include in future displays.
Local names associated with the scouting movement include L.E. DeLaney, former teacher and superintendent of schools at Sayre, Dr. Donald Guthrie, Mrs. Cass Williams, Dr. Harry Fish, Albert Cryder, Edward Woodruff, Clair Daniels and more.
On July 30, 1948, sixteen-year-old Sidney Daniels of Sayre was awarded the Gold Medal for Life Saving Award from Boy Scouts for risking his life when another boy fell into the icy Packer Pond while ice-skating. He received the prestigious award in a ceremony in Howard Elmer Park.
Eagle Scout John Sargent of Troop 17 and Donald Mint performed an equally heroic act on January 25, 1967 when a seven-year-old Sayre boy fell into Island Pond and was rescued.
Other highlights include the opening of Brotan's in Sayre as an outlet for scouting equipment in 1942. An advertisement in the Sayre Evening Times features an "official scouting hat" for 60 cents, a shirt for $2 and a knapsack for $2.35.
Longtime scouter Ed Woodruff was a member of Troop 6 in West Sayre when he received his Eagle Badge. Woodruff served 18 years as scoutmaster of Troop 18 in Sayre and later wrote a History of the General Sullivan Council and Camp Brule for his Wood Badge requirement. In a 1992 interview, Woodruff looked back over 60 years of scouting.
"A lot of things are hard to believe," he said. "The first scout show we had was at the Sayre High School football field in about 1953, showing scouts working on merit badges. One of the boys was using a short wave radio, taking messages and building a radio set. My Lord, did we have a gathering of people to see that. It was beautiful. One of the best scout shows in the area."
The exhibit will open on September 7 and run until December 22. Admission is free.
Upcoming events include History Under the Stars on Saturday, August 24 starting at 7 p.m. The event will feature music by Dr. Maria Sanphy and a history program on Howard Elmer Park by James Nobles. History Fair will be occurring on Saturday, September 7 from 10 a.m. to 4 p.m. featuring history displays, re-enactors, live music and food. The Sayre Historical Society will also participate in an event commemorating the 100th anniversary of the World War I Dough Boy Monument on Saturday, September 14.
The Sayre Historical Society is an all-volunteer, non-profit historic preservation organization funded in part by the Bradford County United Way and the Bradford County Tourism Promotion Agency.